Technology
How to Connect Bluetooth Headphones to Oculus Quest 2 – Home Automation
Facebook's newest VR headset has hit the market, and you'll want to know all about it! Both praise and conjecture surround the Oculus Quest 2. Unique onboard audio capabilities are often not enough.
We'll tell you if you can use bluetooth headphones in this post, as well as other important information to help you get the most out of your sound.
The short answer is that the Oculus Quest 2 can be used with Bluetooth headsets. however, when using a wireless headset, the game may stutter and the audio or video may be out of sync.
oculus quest does not officially support bluetooth wireless headsets or other comparable audio connections. Facebook has stated that it prefers to use a wired connection or rely on the built-in sound system. however, this does not rule out the possibility of a wireless connection! this is not as difficult to configure as you might think.
If you've picked up the new $299.00 oculus quest 2 and finally picked up a headset you can trust, it's time to get started! here are all the steps needed to connect your bluetooth headset.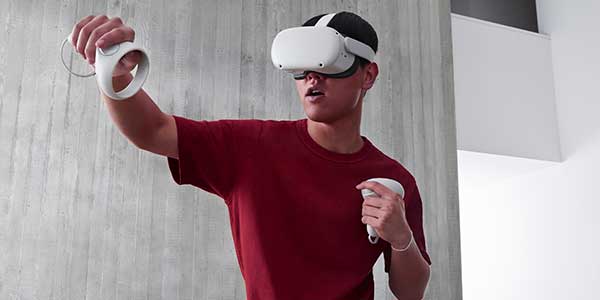 So Here How to Connect Bluetooth Headphones to Oculus Quest 2
all you need to do to pair your bluetooth headphones is to follow these simple steps:
turn on your oculus quest 2
open the settings
menu select "experimental features "
select the "pairing" button from the "bluetooth pairing"
make sure your headphones are on and discoverable.
choose your audio device from the list on the screen and pair with it.
note: this is not an "official" solution; Due to compatibility issues, not all wireless headsets will work this way. so if you're having trouble, don't jump to the conclusion that it's a problem with your headphones!
more:
wireless headsets cause performance issues on oculus quest 2
a severe drop in frame rate or lag when running games.
the audio itself was also reported to be out of sync.
the stuttering difficulties of gaming can be severe enough to render the experience unplayable.
Latency issues are due to compatibility issues between the wireless headset and the Oculus Quest 2, which is also wireless. your devices are receiving and processing audio and visual signals that are out of sync. As a result, the processing performance of your devices slows down considerably.
Is there anything else you can do?
You may want to consider purchasing a Bluetooth transmitter and plugging it into the 3.5mm audio jack on your Quest 2 headset. Often referred to as an AV receiver, this device intensifies the processing of wireless audio input and video. As a consequence, the best experience you get with your vr headset is greatly improved.
This approach reports an average latency of 40 milliseconds, a pace you won't notice when you're immersed in your VR experience! Please note that the latency of different headsets may vary. Still, connecting bluetooth audio to the oculus is becoming more and more popular. all you'll need is a compatible transmitter and a suitable headset to complete this task.
Once you have it, simply follow these steps:
Using the 3.5mm audio jack, connect the transmitter to the quest 2. You can keep it attached to the earpiece with velcro for added comfort. no need to worry about extra weight or "uncomfortable" because it will go almost unnoticed.
connect your audio to the search, the transmitter and the headphones using your three devices. to link your mission 2, use the same approach as before.
facebook recommends the logitech g333 headset as the official wired audio solution for your quest 2.
however, a separate topic of best headset for oculus quest 2.
frequently asked question:
does quest 2 have a microphone?
yes. Quest 2 includes a built-in microphone array, as well as some built-in speakers, so you won't need an additional headset to use Quest 2 audio. It also has system-wide group chat, so you can talk to your friends even when you're not playing.
how do you mute yourself on oculus 2?
to access your universal menu, press. on the right touch controller.
hover over the clock on the left side of the global menu. select quick settings when the quick settings screen appears.
microphone is muted
does quest 2 have finger tracking?
To create precision hand tracking, the Oculus Quest 2 uses inside-out cameras to pinpoint the location of your hands and fingers, then continues to monitor their movement and orientation.
how do you use discord in quest 2?
select unknown sources from the app menu on your headset, then search for discord.
Allow discord access to your microphone after logging into your account. if you want, you can activate the overlay. and this is how oculus quest 2 users can use discord (but at their own risk). 31-Dec-2021
does oculus quest 2 have vrchat?
vrchat works exactly the same in quest and quest 2, with the exception that you can't go to pc-only worlds or use pc-only avatars. the user interface, controls, and even meeting and interacting with pc players are all the same.
How long does mission 2 take to load?
It will take about 2.5 hours to fully charge the Oculus Quest 2. You have the option of charging it with the included USB-C converter or a Quest 2 charging cradle for the headset and controller.